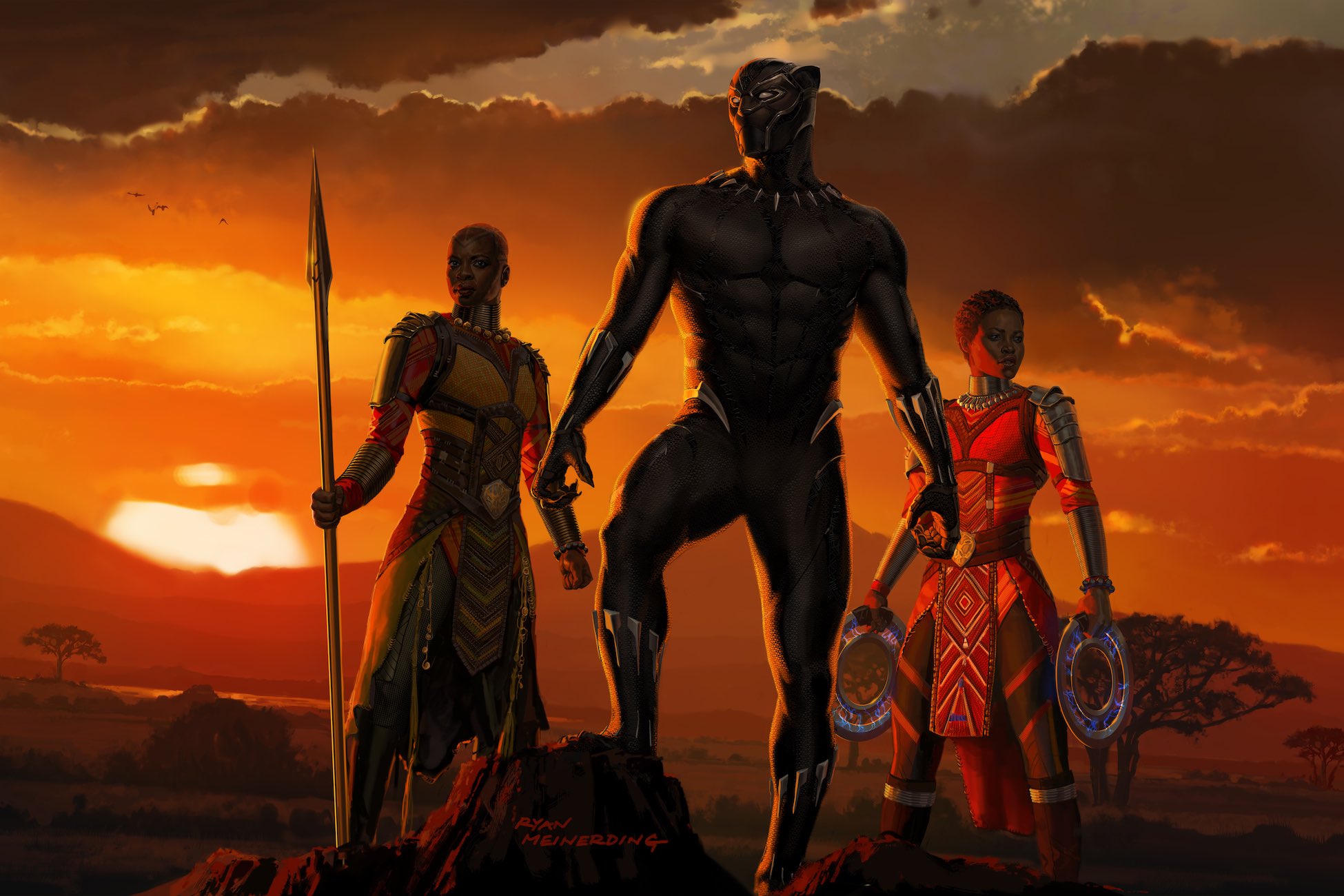 I saw BLACK PANTHER opening night. I went with my husband Friday, and the movie was all I could dream it would have been!  It truly, truly was. I almost cried five times. Legit, five times. There was an older gentleman about my father's age whom sat two seats down from me, and when I looked over at him? He had his head in his hands, trying to compose himself. I legit almost started sobbing–I fought back tears, I wanted to just rejoice. At last, for all my knowledge of all things black and geeky, there was a universe I could belong in where I didn't have to change the skin color of a hero or heroine–because they looked like me already.
I wept from my spirit because it was necessary! I wept because in my almost 37 years of living, I had not seen such depiction of my people. I had not seen it! As woman that stands at the intersection of writer and person of color, it was remarkable to see this movie, and how well it was done. I was impressed at the layers of and to the story, I was impressed at how involved the characters where and their development. I was thrilled to know even with Stan Lee's cameo, there is now more interest in learning about one of the writers for the actual comic (a black man), Mr. Christopher Priest–who is the uncle of a friend of mine, Angel Holcomb.
Inevitably, the critiques will start about what the movie didn't do, should have done and Son of Baldwin said this backhanded comment his page after posting a critique of the movie on his page, "If you are not ready to have an honest dialogue, then don't read this review." And he said that he loved the movie! Aight, fam. But tomorrow we can argue. Today? I celebrate the fact this movie was made, the representation, and what it means to be be black, a writer, and a woman of color.
Today, the culture won.
Fight about how we get the rest of what our ancestors left tomorrow.
P.S. Build-A-Bear Workshop now has a T'Challa bear (Imma get one!), and the site Checks In The Mail have personal checks with Black Panther on them. Oh, getting those too. It's not a game. A dear person of mine called me MJ moons ago. Now, I can say, "No, I'm a Nakia." (Catch!)